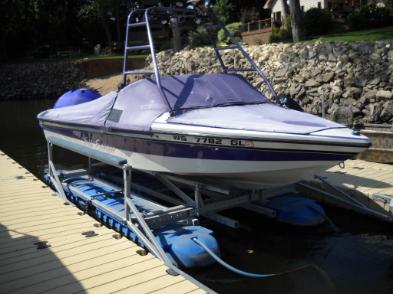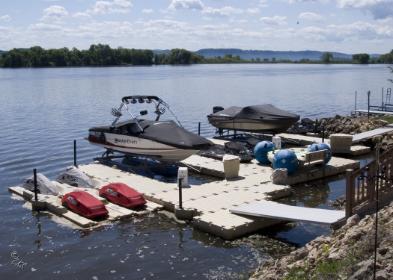 Floating Boat Lifts
Coulee Region Docks can install a Boat Lift from Boat Floater in just a few hours. Boat Floater has been building high quality boat lifts since 1974. These lifts are designed to eliminate moving parts, squeaks, and the need for a rough water or lock up kits for your boat lift. The Boat Floater lift can be used for your fishing boat, runabout, pontoon, tri-toon, or PWC. Your boat and dock are large investments and require a dependable lift system. The best boat care starts with the most durable boat lift available. Boat Floater Industries, LLC builds each boat lift for rough water specifications.
If you're doing research to find the best lift possible, you'll want to take note that other lift manufacturers use hinge arms on their lift which bounce, squeak and move about freely in your boat slip causing undo stress on your dock and lift. Boat Floater lifts with their unique design are a preferred choice for dock builders, marinas, and boat dealers. Isn't it time you experience the Boat Floater Lift Difference?
Our polyethylene tank design along with a simplistic upper structure design on our lift will accommodate any boater. Your open bow rider, bass boat or fishing boat, competition v-drive inboard wake boat, pontoon boat, tri-toon, performance boat, or cruiser will be safe and secure on your Boat Floater boat and PWC lifts. Your Boat Floater boat or PWC lift will position your vessel or PWC (personal watercraft) easily and self center for convenience. More...
4500P Lift

The Boat Floater 4500P accommodates most boats up to 22' in length and most pontoon and tritoon boats up to 24' in length or two Personal Watercraft or PWC.

Features:
6600P Lift

The Boat Floater 6600P accommodates most boats up to 26' in length and most pontoon and tritoon boats over 24' in length or two personal water craft or PWC.

Features:

Two 15' Polyethylene Tanks with a Limited Lifetime Warranty
Galvanized Upper 5 Year Warranty
Upgradeable by adding a tank to accommodate a dry weight
of 9800 lbs.
8600P Lift

The Boat Floater 8600P accommodates most boats up to 32' in length or 8,000 lbs.

Features: