Jeff Howe 608-792-9578 Call or Text or Email mailto:crdock66@gmail.com
Deb Howe: 608-797-8687
Phone Hours: Office or Pick up Hours
Call Monday-Thursday 7 am to 9:00 pm 1541 Miller Street La Crosse WI 54601
Call Fri 7 am - 6 pm Monday-Thursday 9 am - 4 pm or appointment
Call Sat 9 am - 6 pm Friday: 9 am - noon
Call Sun: 9 am - 9 pm Saturday/Sunday: By appointment
Send Text anytime Please call ahead if you are coming from out of town in case we are on a job site. October 6, 2023:
Hello! EZ Dock inventory reduction sale on in-stock: 15% off EZ Dock sections, lifts, ports, launches. 10% Accessories; 15 % off CRD ramps and docks; 10% off Boat Floater lifts.
Why us?

We are full service and we care that you are satisfied with your dock purchase.
You call, we answer or call you back.

At Coulee Region Docks, you talk to an owner, at your convenience.

We design a dock system that you want. We ask questions and figure out what will work in your location. Want to start small? That's fine. You can always add later if you choose.

We provide a quote the same day. Call us before you buy. We offer competitive, realistic pricing.
We stock product by truck loads and build ahead so when you are ready to buy, you can.
Integrity.
Honesty. We are not going to lie about another company just to get your business. But we might give you our opinion if they try to steer you down a path just to make a sale.
Not ready to buy? We can fix or replace some components on almost any dock. Welding on site.
We are Coulee Region Docks and Decks. A locally owned business specializing in boat docks, various lifts, ramps, and an abundance of dock accessories. We sell, design, build, install, and repair docks and ramps. Our company is the the longest seller of EZ Docks in the nation available to WI, MN, IA, KS, ME, MO, SD, & ND. We buy by the truckload so we ensure we have stock available for purchase and ready for pick up, delivery or installation. Our custom steel frame docks and aluminum ramps can be installed anywhere that floating docks should be installed.
Jeff pretty much answers his phone immediately or attempts to call back within 12 hours. Please call again if you haven't heard back in 24 hours. We value new customers and very much appreciate those who remain loyal. We are located at 1541 Miller Street La Crosse WI 54601 just 1 block from the brewery and near Gundersen Clinic in the industrial park known as Muddy Flats. We have a shop with a display for you to view our products. Call first especially if you are coming from out of town; we may be working at a job site.

For those who like the look and feel of the metal frame docks, we build truss style steel at our shop in La Crosse WI. We use a polymeric lumber called Wear Deck by Owens Corning and black encase floats for adequate floatation. These heavy duty docks also work great to refurbish boat houses.

WearDeck is a slip-resistant and UV protected for fade resistance. WearDeck can span 2 feet on center because of the strength of the reinforced layer of fiberglass and looks like lumber. We use WearDeck on decks, docks, steps, walkways, railings, gazebos, fences, hunting blinds, and also works well in wet areas.
An equally great product is Titan decking. We use Titan in on our aluminum ramps because it is light weight and and slip resistant and allows debris to flow through. It is a great match to our tan or gray EZ Docks and Wear Deck.
We have the EZ Kayak Launch by EZ Dock. This is a personal kayak launch system affordable for home use, however we are finding local municipalities are incorporated the launch into their public docks. We are able to attach or place along any time of dock if you do not have an EZ Dock. Check out the pictures on the website.
It is important to perform maintenance to keep poles straight because the floating docks raise and fall along the poles. Docks or accessories can be damaged if they are hung up.
Myths :
1. The CRD steel frame docks aren't commercial grade. Not true. Our truss style steel frame floating docks are designed for both residential and commercial use. Marinas and carpenters appreciate the workmanship and the use of Wear Deck. Just because our estimates are 10- 30% less than our competitor, doesn't mean our docks aren't the best.
2. You can't buy from CRD because they can't do 12 inch pilons. Not true. There are 3 companies that can install 12 inch poles/pilons and all 3 companies can place the poles and add our docks or we can be on sight and install your docks. The issue with pilons is they need to be driven in adequately. ASK. We work with you to decide if EZ Docks or steel frame docks are the best application for your location. Most docks utilize our 2.5-3.5 inch poles which may need to be straightened if excessive flood or winds or debris make the poles crooked.
Us vs them:
We don't have the yard signs, yet, but if we did, we could put up thousands.
We don't have the most well-known name, however Jeff Howe has the most experience with over 35 years in the dock and construction trades.
Thank you for being our customers and taking the time to learn about Coulee Region Docks!

Jeff & Deb & Jaden Howe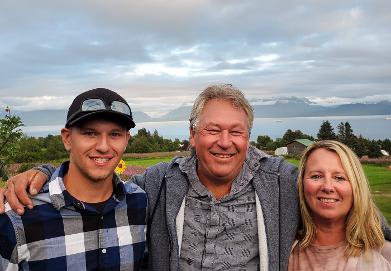 Over 35 years of boating experience including 30 years of dock design, installation, maintenance, and sales.
Jeff's cell Phone: 608-792-9578
Deb's cell Phone: 608-797-8687
Email: crdock66@gmail.com

Facebook: Coulee Region Docks
1541 Miller Street, La Crosse, WI 54601
Proud to sponsor the following organizations:
River City Water Ski Team (Ongoing) http://rivercitywaterski.com/
Mississippi River Clean-up: May 11, 2024 https://rivercleanuplacrosse.com/
Blair-Preston Fire Department: Fundraiser May 11, 2024
La Crosse Dive Team (ongoing) http://lacrossediveunit.squarespace.com/
Riverfest July 3-6, 2024 https://riverfestlacrosse.com/
Country Boom July11-13, 2024 https://countryboom.com/
Rotary Lights November 24- December 31, 2024 https://www.rotarylights.org/
NASA (ongoing)
La Crescent Snowmobile Club